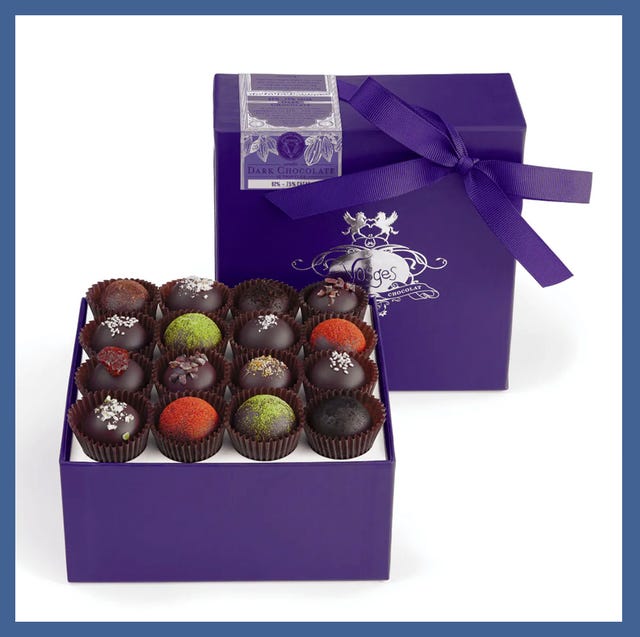 Whether it's a date night gift or an every day indulgence for a coworker, there's never a bad reason to give (or get) a decadent box of chocolate. With that in mind, we've rounded up some of the very best boxes of bon bons, truffles, and cocoa-y delights for every taste—because, let's face it, you can't go wrong with chocolate.
Advertisement – Continue Reading Below
Dark Chocolate Truffle Collection, 16 Pieces
Chefs Selection, 24 Pieces
Kreuther Handcrafted Chocolate
Think of this Gabriel Kreuther and Marc Aumont box as a chef's tasting menu of chocolates: the selection changes based on the season, which makes every box a discovery of tastes like gingerbread, salted butter caramel, banana peanut, and French baguette.
Chocolate Selection, 14 Pieces
A box from this lauded Paris shop is like a compact French vacation. Filled with milk and dark chocolate pralines and ganaches in some of their signature flavors, this is a box no francophile could resist.
More: Cozy Gifts Ideas for the Homebody in Your Life
Fruits Both Familiar and Curious
Award-winning confectioner Justine Pringle's latest venture gives the classic fruit-filled box of chocolates a revamp by infusing rich caramel with purees of fresh fruit like passion fruit, lime, and graviola (aka soursop).
"Live by Love" Chocolate Truffle Gift Box, 15 Pieces
You may not be able to gift a trip around the world, but you can give the flavors of one all in this box. Think: hibiscus-mint for Egypt, ginger, turmeric, and black pepper inspired by Japan and India, and Irish-influenced whiskey and sea salt.
Swiss Luxury Selection Boxed Chocolate
For the chocolate lover who craves a little of everything, this box from Lindt features milk, dark, and white chocolate delicacies that are sure to please.
L.A. Burdick Chocolate Mice
Nobody wants rodents in their house… unless their these adorable, handcrafted (no molds!) white, milk, and dark chocolate mice with whimsical, colorful tails.
French Assortment, 20 Pieces
Manhattan's oldest chocolate maker, Li-Lac is the perfect choice for anyone craving a taste of classic NYC. The French assortment is one of their signature boxes, inspired by European chocolates since the 1920s, when the chocolatier was founded.
Classic Gold Ballotin Chocolate, 19 Pieces
Belgian chocolate is famous for a reason, and so is Godiva. We don't know anyone who'd be disappointed to get a classic gold box filled with the chocolatier's signature flavors.
Saxon's Heartfelt Collection
Some things are just prettier in pink, and chocolate is no exception. Show a little love with this box filled with chocolate hearts, raspberry truffles, and sea salt caramels.
Milk Chocolate Sea Salt Caramel Praline Truffles
With almost 150 years of chocolate making experience, this British chocolatier's famous truffles are always a good choice.
All-Occasion Chocolate Gift Assortment
If you're looking for a good old fashioned taste, look no further than this northeast Texas candy shop filled with old school favorite handmade chocolates and a custom chocolate message.
This content is created and maintained by a third party, and imported onto this page to help users provide their email addresses. You may be able to find more information about this and similar content at piano.io
Advertisement – Continue Reading Below