One of the best things about chocolate is that it's always chocolate season. Whether you're celebrating, commiserating, or just feeling the pangs of a sweet craving, chocolate always helps, and it's always within reach. Yes, we live in a world with an abundance of vegan chocolatiers, but sometimes you just need to grab a bar off a shelf at the grocery store. We've compiled a list of 25 non-vegan chocolate brands that are doing vegan right. Let the chocolate tour begin.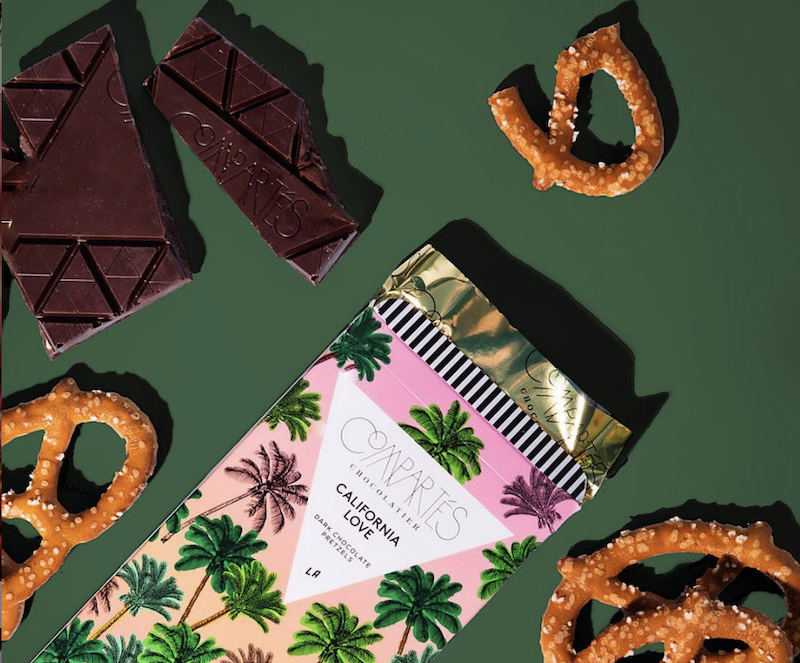 you share
one you share
It's not just our sweet tooth that lures us in to the Compartes display—it's the gorgeous artistic packaging. Reach for a Compartes bar if you're in the mood for something a bit wacky, as the vegan flavors range from California Love Pretzel to Old Hollywood Smoked Sea Salt. The flaked coconut-studded Tropical Paradise and pink-dusted Matcha Raspberry Reishi are stunners as well.
try it here
two Ritter Sport
This German chocolate company has a dedicated vegan category on its website these days, but it's been making dairy-free chocolate for years without the label. TheDarkChocolate; Coconut Selection 61%, 74%, and 81%; and Marzipan varieties are vegan.
try it here
3 Lindt
Ever watch those tantalizing Lindt commercials featuring a chocolatier whisking melted chocolate? This company has us hooked. Fortunately, a few options are vegan-friendly. Skip the truffles and flavor-infused dark chocolate bars, but all the Cocoa Excellence bars with 70 percent and up dark chocolate are good to go.
try it here
4 Ghirardelli
Those who've stepped inside the iconic Ghirardelli factory in San Francisco know it's like the real-life equivalent of Willy Wonka's grand enterprise. Yes, there's dairy lurking in most of the dark chocolate varietals, but the Intense 72% Cacao Twilight Delight squares and bars are completely dairy-free. The 72% and 100% Premium Baking Chips are also vegan, along with the Double Chocolate Premium Hot Cocoa mix.
try it here
5 Edge
These Keto friendly chocolate bites are made with 78 percent dark cocoa, a dash of vanilla, and are sweetened with Stevia for a sugar-free treat. These mini chocolate bars are perfect for s'mores if you're looking for a dessert that's creamy and intense without being overwhelmingly sweet.
try it here
6 Trader Joe's
Yes, our favorite tiki-themed grocer makes vegan milk chocolate, but it carried vegan chocolate way before it debuted its Almond Beverage Chocolate Bar in 2020. TJ's Dark Chocolate Covered Espresso Beans, Dark Chocolate Lover's Bar, and Pound Plus Dark Chocolate are plant- based. That last option should hold you over for a while.
Try It Here
7 365 by Whole Foods Market
From mac and cheese to pizza, it seems like Whole Foods carries a vegan version of everything. The grocery store's 365 brand offers a simple yet delicious organic dark chocolate bar with 57 percent cacao. We grab this whenever we swing by the sandwich bar for a TTLA. Bonus: the 365 Dark Chocolate Covered Raisins are vegan, too!
try it here
8 Ibarra Chocolate
We don't recommend eating these straight, but they're good to have on hand whenever you're in the mood for a Mexican hot chocolate or champurrado. Each disc is made of cacao paste, sugar, and cinnamon to add a comforting spice element to any chocolatey drink. Pair with your favorite non-dairy milk or follow this recipe by Dora's Table to make vegan champurrado.
try it here
9 Tony's Chocolonely
Tony doesn't sell bars of chocolate—he sells bricks. These bars are massive. Most dark chocolate varieties are vegan-friendly other than the Dark Milk Pretzel Toffee flavor. Between the Dark Pecan Coconut and Dark Almond Sea Salt, you'll find a brick of chocolate that calls to you.
try it here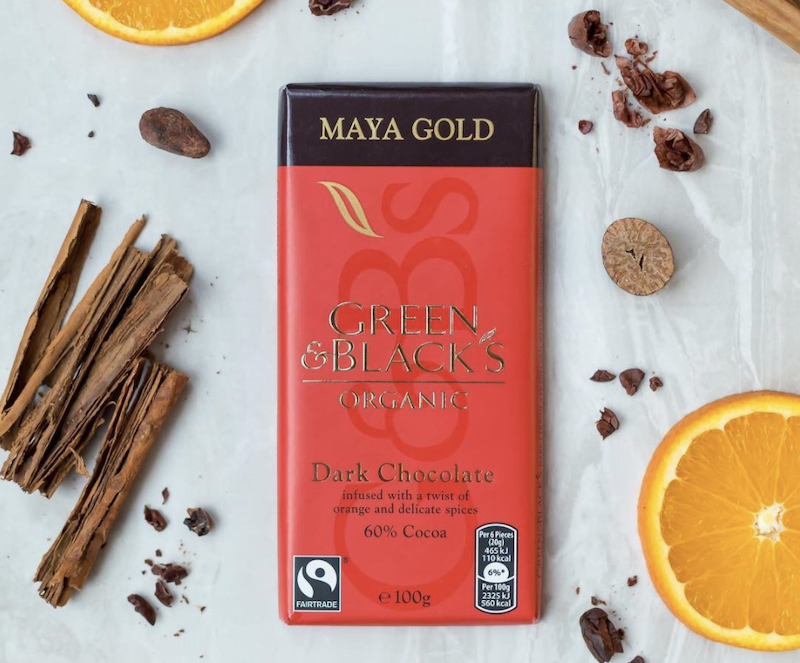 Green & Black's Organics
10 Green & Black's Organics
This company wants you to feel good about your chocolate purchase. The business sources its cocoa through a third-party sustainability program, Cocoa Life, to ensure workers are paid a fair wage. Most of the dark varieties are vegan excluding the Salted Caramel. It's hard to choose a favorite between the Dark Chocolate Mint, Ginger, and Raspberry Hazelnut, but recently the Maya Gold Dark Chocolate bar has won us over with its subtle yet pleasant hints of citrus and spice.
try it here
eleven Sugarfine
Remember the days of samples? We used to walk by this adult candy store to see if employees were sampling any of the few vegan options here. It was always a good day when they broke out the Cold Brew Cordials. Think cherry cordials, but instead of fruit in the middle, you get a splash of cold brew. Coffee and chocolate are the perfect couple.
try it here
12 Dylan's Candy Bar
We'll be honest—it was a bit disappointing to realize this high-end yet whimsical candy shop is seriously lacking in vegan treats. Sure, it's fun just to walk into the store and pretend you're Charlie Bucket with a gold ticket in hand, but it's a bit of a let down to know most of these edible wonders contain animal products. Curb that disappointment with a simple dark chocolate bar in the black wrapper (and perhaps write a polite email to Dylan requesting additional vegan options).
try it here
13 Lake Champlain Chocolate
This Burlington, VT-based chocolate factory is taking cues from its neighboring dessert company—Ben & Jerry's. While Lake Champlain carries a variety of vegan-friendly dark chocolates, it is stepping up its vegan game. Earlier this year, the company recently released its first box of vegan-friendly truffles. Online, the company makes it easy for plant-based customers by providing a dedicated menu for vegan chocolate.
try it here
14 chocolove
Pick up a bar of Chocolove when you're in the mood for an interesting chocolate pairing. The newest vegan-friendly flavor—Chile Molé in Strong Dark Chocolate—delights our taste buds. If you've never experienced chocolate and chili, you need to try it. Here's the rule for finding a vegan Chocolove bar: opt for dark chocolate but avoid those that contain nut butter fillings, caramel, or toffee. Dark chocolate bars with whole nuts, sea salt, and whole fruit are fine.
try it here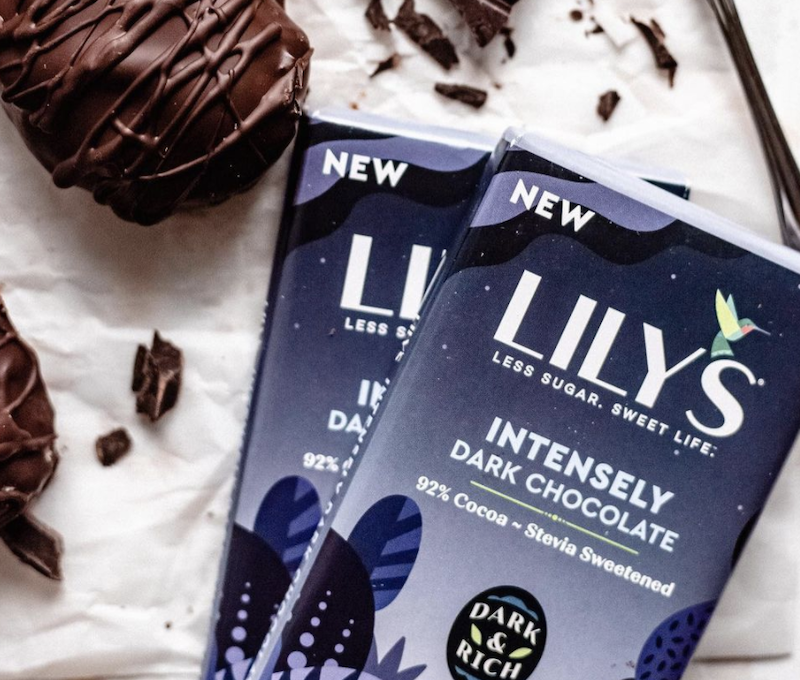 Lily's
fifteen Lily's
Reach for a Lily's bar or baking chips when you're looking for a lower-sugar option. Each product is "botanically sweetened" meaning there's no refined or processed sugar. Most bars contain stevia to balance out the strong cacao flavor. All of the Extra Dark Chocolate (cacao content 70 percent and up) bars are vegan. Yes, that includes the Extra Dark Salted Caramel!
try it here
16 Change Echo
This conscious company used to sell vegan dark chocolate truffles, but unfortunately, they had a very limited run. However, vegans can still find something sweet in the chocolate bar category. Most of the dark chocolate bars are vegan with the exception of the caramel, malt, and toffee varieties. We highly recommend the Raspberry Blackout and Quinoa Crunch (it tastes like a Nestlé Crunch bar!).
try it here
17 John KellyChocolate
You won't find these chocolates on any grocery store shelves, but after sampling the vegan dark chocolate bark, we had to give this confections boutique a mention. The dairy-free selection includes an assortment of chocolate-covered candied fruit boxes as well as small-batch bars. The Dark Chocolate Espresso and Dark Chocolate Habanero & Jalapeño bars are two flavors that keep us coming back for more. Visit the online shop or its Beverly Hills, CA location.
try it here
18 Valrhona
When top pastry chefs claim a brand as their chocolate of choice, you know it's worth the splurge. You'll often find Valrhona products in the baking aisle, but the company makes "tasting bars" as well. Most of its dark chocolate bars are a safe bet—from the pleasantly sweet Manjari Orange to the super dark Abinao 85%. The bars with 64 percent cacao content and up do not contain any animal products.
try it here
19 Beyond Good
This company's signature lemur mascot makes these bars stand out amongst the rest. All bars are made with single-origin Madagascar or Uganda cocoa, and they're all surprisingly vegan (even the Salted Caramel). Between the nine flavors, it's hard to choose, but the Toasted Coconut and Sea Salt and Nibs always seem to find a way into our shopping basket.
try it here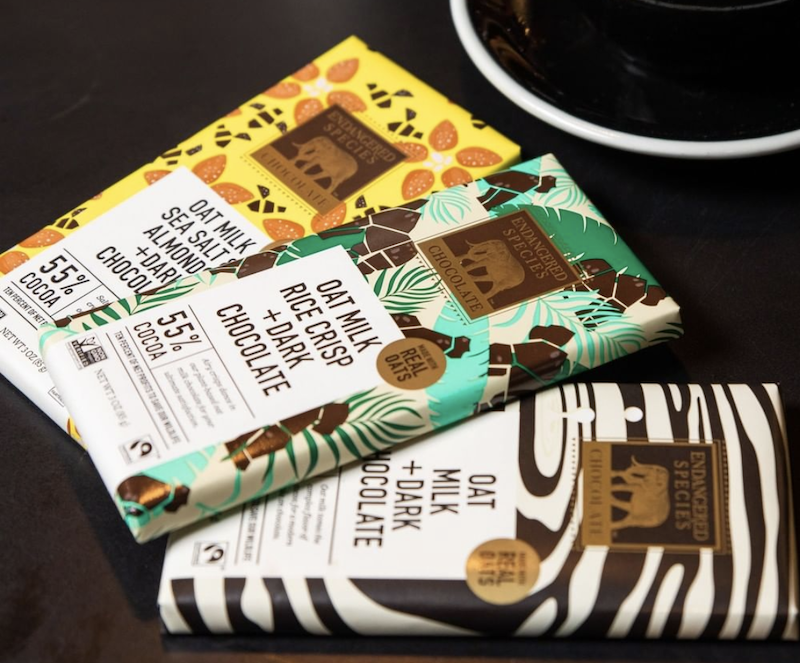 Endangered Species Chocolate
twenty Endangered Species
Feel better and do better by eating a chocolate bar. This company donates 10 percent of its net annual profits to wildlife conservation efforts. In harmony with this mission, the company has developed creamy oat milk-based chocolates to offer a broader vegan selection. Its dark chocolate bars are also vegan-approved with the exception of the Hazelnut Toffee and Caramel Sea Salt. From blueberry-studded bars to a crunchy espresso bean option, there's a flavor for whatever you're craving.
try it here
twenty-one TCHO
Break free from the traditional chocolate mold and reach for a square-shaped confection. The Fair Trade- and USDA Organic-certified company offers a plethora of vegan options from solid dark chocolate to fruity Banana Nut. The latter tastes like a chocolate-covered banana coated in crushed almonds. It's fantastic. And, even more fantastic, TCHO is transitioning to be entirely vegan by 2023. Cheers to that.
try it here
22 Chocolate Dandelions
This San Francisco chocolatier isn't trying to be vegan, but when you make chocolate the way it should be—pure and simple—the result just happens to be animal-free. Each bar is made with cacao beans and sugar—that's it. Like coffee, the variations in flavor come from the beans' origin. Some taste fruity, others earthy, and some smokey. For a fun tasting experience at home, purchase the three-bar pack and try to identify the flavor notes without looking at the label.
try it here
23 Simple Truth Organic / Private Selection
Kroger's allergen-friendly and organic name brand line of products cranked out a medley of vegan options in 2020, and we're thrilled that chocolate was included in that rollout. The Simple Truth 85% Cacao Dark Chocolate bar is velvety and intense. Kroger's other product range, Private Selection, also offers vegan-friendly dark chocolate bars in flavors such as Almond Blueberry and Sea Salt Almond.
try it here
24 L.A. Burdick
Originally hailing from New York City, this chocolate boutique found roots in Boston and gained popularity through its adorable mouse-shaped sweets. It has yet to produce a vegan-friendly alternative to this bestseller, but its plant-based options are definitely worth the splurge. The wide selection includes single-origin bars, a chocolate-covered marzipan assortment, and flavored dark chocolate such as Hazelnut, Raisin, and Flaxseed and Blueberry, Goji Berry, and Cacao Nib. All can be found in Burdick shops or online.
try it here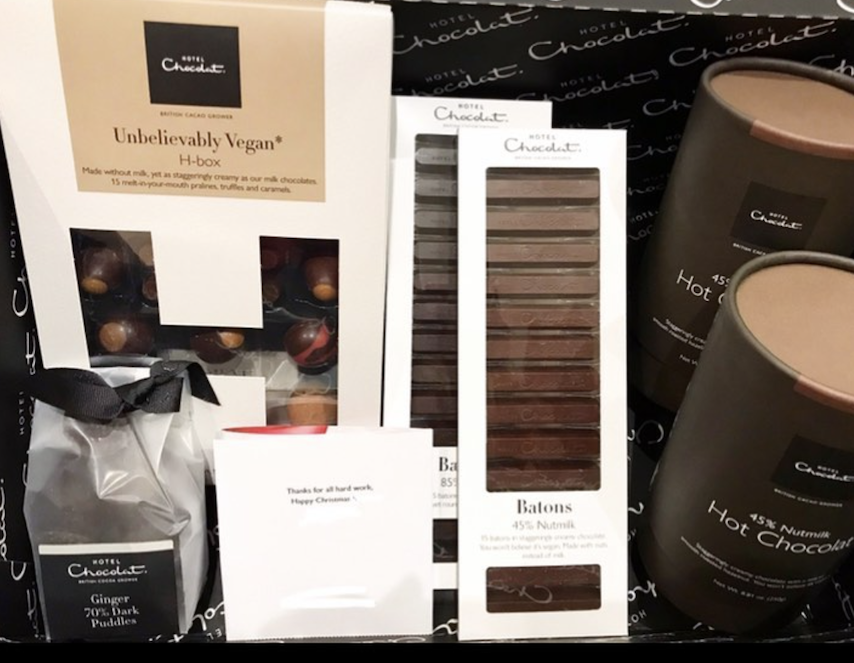 The Plantiful Cook
25 Hotel Chocolate
Following a flurry of orders from the US, London-based Hotel Chocolat set up shops stateside. Its vegan line is extensive and clearly labeled, and the luxurious chocolates are a go-to for holidays or special occasion gifts. Check out the dark chocolate bunnies for Easter, penguins for Christmas, and elaborate Unbelievably Vegan Sleekster truffle assortment for birthdays and other celebrations. Order online or visit a US-based store in New York, NY; Washington, DC; and Paramus, NJ.
try it here
For more vegan sweets, read:
35 Essential Vegan Candy Bars You Can Buy Year-Round
The VegNews Guide to Vegan Candy8 Vegan Cakes That Can Be on Your Doorstep This Week
Get FREE vegan recipes delivered to your inbox by signing up for our award-winning VegNews Recipe Club.
sign-up
Get FREE vegan recipes delivered to your inbox by signing up for our award-winning VegNews Recipe Club.
sign-up