Can you believe that a NASCAR driver recently won the US Open? Brandon Jones, the Joe Gibbs Racing driver in the Xfinity Series, won his first major at Brookline Country Club.
Okay now, jokes aside, the resemblance between Jones and the current winner of the US Open, Matt Fitzpatrick, is uncanny.
If you didn't know better, you could mistake them for each other on the street.
ADVERTISEMENT
Article continues below this ad
This was something the official handle of the Xfinity Series also acknowledged, as they tweeted, "Are we sure @BrandonJonesRac didn't cut his hair and try and win the #USOpen on the off weekend?"
WATCH STORY: Dale Earnhardt Jr. Shares His Dad's Signature Screwdriver Recipe
Brandon Jones has eyes on NASCAR Cup Series
In a recent interview, the Xfinity Series driver revealed that he is aiming to win the championship, and from that, jumpstart his career in the Cup Series.
This could be more so of a possibility considering the uncertainty that surrounds the future of JGR driver, Martin Truex Jr. who has expressed his doubts regarding his continuity in the sport.
"I mean, my long-term goal is to eventually get to that Cup level, some way or the other," Jones said. "I've always said, if it's possible, the best-case scenario, you go make maybe five races a year. If you're able to do Xfinity or something, you're able to go run a couple Cup races before you just dig headfirst into it."
ADVERTISEMENT
Article continues below this ad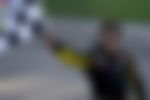 Jones believes the way he described to get to the top tier of NASCAR would be the "ideal way."
Having said that, he's aware that sometimes things just don't work out the way you want them to. But at the same time, sometimes one gets an opportunity to go "straight to it."
ADVERTISEMENT
Article continues below this ad
"It's hard to turn down if it's a good car."