Sapporo USA to acquire Stone Brewing
Stone retains existing brands, management and work force
Reported by San Diego Community Newspaper Group
Sapporo USA and Stone Brewing have reached an agreement for Sapporo USA to acquire Stone Brewing for around $165 million. The transaction is expected to close in August. This east-meets-west acquisition brings together a fusion of cultures creating growth potential for both brands.
Sapporo gains significant, high-quality brewing capacity on both US coasts, enabling it to significantly increase production to meet the strong consumer demand for its Sapporo-branded beers for the domestic market.
Stone Brewing gains the resources of the largest Asian beer brand in America and its commitment to preserving Stone's legacy, culture, and innovative approach to craft brewing.
Sapporo intends to produce its Sapporo-branded beers for US distribution in Stone's two state-of-the-art breweries, in Escondido and Richmond, Va.
Building on existing capabilities, supported by planned capital investments, Sapporo intends to brew 360,000 barrels in the US by the end of 2024. This will essentially double Stone Brewing's current production.
Under the agreement, Stone Brewing will continue to brew its celebrated craft beers at the two breweries, as well as operate its seven Tap Rooms and World Bistro & Gardens destinations with existing branding, management, and workforce under the Sapporo umbrella. Best known for its award-winning beers like Stone IPA, Stone Delicious IPA, and Stone Buenaveza Salt & Lime Lager, Stone will continue to brew with the same recipes and team as before.
Read more…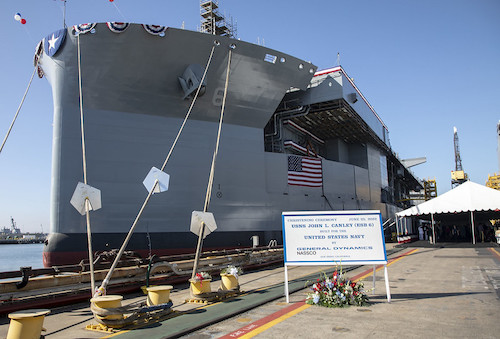 General Dynamics NASSCO christens the USNS John L. Canley
General Dynamics NASSCO christened the USNS John L. Canley, the fourth ship for the US Navy's reclassified Expeditionary Sea Base (ESB) program, on Saturday. Marine Corps Lt. Gen. Michael E. Langley served as the main speaker at the ceremony, in addition to remarks from NASSCO, US Navy, and US Marine Corps representatives. Following remarks, Patricia A. Sargent, the ship's sponsor and daughter of the ship's namesake, christened the ship with the traditional champagne bottle break alongside the hull.
In 2020, Former Secretary of the Navy, Kenneth J. Braithwaite, declared that the fourth ship in the ESB program be named after Medal of Honor recipient Sgt. Maj. John L.Canley. Canley rescued more than 20 fellow Marines under enemy fire in Vietnam during the Battle of Huế City in 1968. In addition to the Medal of Honor, the nation's highest honor, Canley also receive the Bronze Star with Combat "V," and the Purple Heart .
Construction starts on the first affordable
housing development on county surplus land
In a first for the County of San Diego, officials broke ground June 23 on a surplus property that will transform an empty lot into a site for low-income affordable housing.
Thursday's groundbreaking marks the start of construction for the Levant Street Cottages in the Linda Vista neighborhood of the City of San Diego. The site once housed a County Child Welfare Services building.
The cottages will go up on a 4.57-acre plot of land and include 127 independent living and affordable senior housing units expected to house 150 people. At least 20 percent of the units will go toward seniors with 50 percent or less of the area median income. The rest will go to seniors with 60 percent or less.
The County is working with Wakeland Housing and Development, and San Diego Kind Corporations to develop the property. The developers will lease the land for a $1 a year and pay an annual $10,000 administrative payment to the County. The housing units will remain affordable for 70 years.
The San Diego Housing Commission provided 70 project-based vouchers. The state provided $23 million in tax credits and $19 million in Multifamily Housing Program funds.
Construction on the Levant Street Cottages is scheduled for completion in early 2024.
San Diego County Water Authority adopts higher
water rates for member agencies in 2023
The San Diego County Water Authority Board of Directors has adopted 2023 water rates using strategies to minimize increases for its 24 member-agencies and their customers. The rates and charges will increase by 3.7 percent for untreated water and 5.2 percent for treated water in calendar year 2023 for the Water Authority's member agencies.
The increases – adopted after a public hearing – are attributable to historically high inflation, significant energy cost increases from SDG&E, and continued cost increases by the Metropolitan Water District of Southern California.
To reduce 2023 rate increases by approximately $39 per acre-foot, the Water Authority plans to draw $14 million from the Rate Stabilization Fund. Strategic withdrawals from the fund help avoid rate spikes, especially those driven by reduced water sales.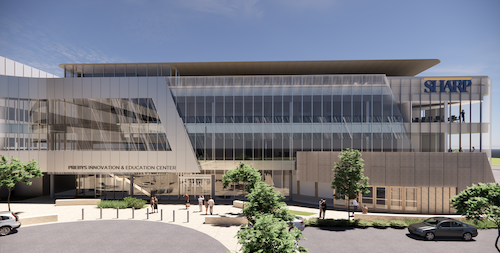 Sharp HealthCare Foundation awarded $500,000
for future technology immersion lab
To help transform health care in San Diego, the James M. Cox Foundation has awarded the Sharp HealthCare Foundation a $500,000 grant for its technology immersion lab at the future Prebys Innovation and Education Center in Kearny Mesa. The James M. Cox Foundation is the charitable arm of Cox Enterprises, the parent company of Cox Communications.
The James M. Cox Foundation donation will help fund the Prebys Innovation and Education Center's five simulation labs, where nurses and other medical caregivers will learn technical acute and soft skills.
The simulation rooms will provide hands-on training to prepare workers for an ICU environment and simulate the chaotic nature of an emergency room. They also will incorporate technology, with enhanced audio and visual capabilities, that will improve training, observations, and debrief sessions.
Construction is currently underway on the center, located on the campus of Sharp HealthCare's headquarters at 8695 Spectrum Center Blvd. in Kearny Mesa. It is expected to open in spring 2023.
Michelle Lucey appointed chief people
officer for Sunrise Management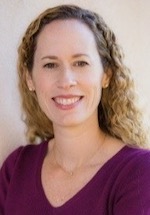 San Diego-based Sunrise Management – ​​a multifamily industry leader specializing in the management of residential real estate – has appointed Michelle Lucey as its new chief people officer.
A seasoned human resources executive, Lucey was most recently the corporate director of human resources at Excel Hotel Group, where she was charged with developing and executing human resource initiatives for a growing organization that owns and operates 24 select-service hotels across California and Colorado.
Lucey will be a core part of the Sunrise Management executive team, responsible for managing and directing the human resources department and leading the development and advancement of the company's business strategy and culture.
With 20 years of human resources experience, Lucey was also director of human resources for Omni Hotels and Resorts as well as complex director of human resources for Hilton Worldwide.
She was also an adjunct professor in the HR Certificate program at UC San Diego.
Tips on how to avoid becoming a victim of elder abuse
San Diego County Credit Union will host "District Attorney Tips on How to Avoid Becoming the Next Victim of Elder Financial Abuse," during Elder Abuse Awareness Month in June. This complimentary educational webinar is presented by San Diego County Deputy District Attorney Scott Pirrello on Wednesday, June 29, 2022 at noon. The free webinar is open to the public, but virtual seating is limited and reservations are required.
Elder financial abuse is on the rise. With the rapid increase in online usage due to the pandemic, fraudsters are employing a number of tactics to take advantage of victims, particularly older adults and those who are more vulnerable. Adults over the age of 65 are the fastest growing population in the United States, and learning the warning signs of elder financial abuse is key in preventing it. To register, visitdccu.com/fww.
American Motorhead Motorcycle Art Show
The American Motorhead Motorcycle Art Show will be held Saturday, July 30 from 5 pm to 10 pm at Prohibition Brewing Co., located at 2004 East Vista Way in Vista, 92084. The show will be open to the public and proceeds will benefit equipment for Scripps Health's perinatology program for women experiencing high-risk pregnancies.
The family-friendly event will feature motorcycle-themed works of art for sale by painters, leather designers, illustrators and other artists. Local vendors will donate a variety of prizes for raffle drawings, and artists will donate their talents to produce custom skateboard decks for a silent auction.
The free show is presented by American Motorhead Design & Illustration and sponsored by Law Tigers Motorcycle Lawyers and Prohibition Brewing Co. For more information, follow @AmericanMotorhead on Facebook or Instagram, or call 760-503-4557.
Sony extends Create Action grant program to Canada
Rancho Bernardo-based Sony has expanded is Create Action initiative to Canada — a $1 million program supporting underserved communities by celebrating and amplifying the efforts of local, community-based nonprofit organizations. In its first year, the initiative awarded 10 organizations with funding to support their library, financial, creative, and STEM education programs. Applications for the next round of funding are now open to North American nonprofits.
Read more…
Software startup Xendee raises $12 million
Xendee, a tech startup specializing in planning and operational software for microgrid energy systems, has raised $12 million in funding. The 24-employee company will use the funds to increase the deployment of its microgrid infrastructure for electric vehicle charging platforms, military bases, airports, and university and corporate campuses.
Read more…
Sempra's SoCalGas says it has achieved
2025 goal for lower methane emissions
Sempra's Southern California Gas division reported Friday it reduced methane gas emissions by 37 percebt last year — passing California's 20 percent goal and nearing the 2020 goal of 40 percent. The report on methane emissions, which are a key component of climate-warming greenhouse gases, was submitted to the California Public Utilities Commission.
The company attributed the success to new leak detection technology, including the use of helicopters and drones to spot problems in the natural-gas distribution system.
The calculations of percentage reductions are based upon a 2015 emissions baseline. California utilities' progress toward the goals is tracked and reported via state-mandated annual reports.
Read more…
Northrop Grumman's recent contracts
benefit unmanned aircraft fleet
The US Navy recently awarded Northrop Grumman Corp. several contracts related to its MQ-4C Triton unmanned aircraft system. The program is based in Rancho Bernardo. The deals cover fatigue testing as well as the aircraft's intelligence-collecting payloads.
The first is a $40.7 million order against a previously issued basic ordering agreement. The order provides Full Scale Fatigue Test (FSFT) and Effects of Defects (EoD) for the Triton, to include testing, analyzing, and documenting the results of both the FSFT and EoD test, as well as identifying post-test activities in order to fully verify and validate the fatigue and damage tolerance requirement of the performance based system specification. Some 81.2 percent of the work will be performed in San Diego, with another 11.3 percent in Wichita, Kansas. Work is expected to be completed by February 2028.
Read more…