.

.
This Is How We Roll At Cinnzeo™
It's Love, At First Bite!
.

.
Cinnzeo™ Offers More Than Just Cinnamon Rolls
Fresh baked by expertly trained Bakers throughout the day!
At Cinnzeo™ Bakery Café we have been welcoming guests to our bakeries since 1987 to enjoy our artisan
cinnamon rolls. We invite our guests to observe us expertly make our creations fresh, daily.
Only the best ingredients are in our artisan baking.
Our well-established brand is well known across Canada and internationally; we have been baking since 1987.
We are seeking enthusiastic Franchise Partners to join our team.
Roll with us and bring the Cinnzeo™ Swirl to your Community!
.

.
The Perks of being a Cinnzeo™ Franchisee?
You build your future when you franchise with us. Cinnzeo™ is widely recognized, 100% Canadian Owned, and growing across the nation. If you have a passion for food and are industrious, we invite you to explore this opportunity! Our store formats range from 150 sq. ft kiosks to non-traditional cafes, that offer more than just cinnamon rolls!
.
What we offer to launch & establish the success of our franchise partners:
Initial stages: We coordinate the following for our franchise partners – site selection, lease negotiation, construction, & a Turn-Key Bakery design; including your required equipment. Focus on planning your store openingtraining, and learn about operating your own Cinnzeo™ Bakery Café.
Fiscal Suggestions: Your success means our success. We want to see you grow, assisting with fiscal intelligence as part of the process; a business plan is always encouraged prior to your store opening.
We take the lead when it comes to marketing! In our Head Office we are regularly planning Marketing, Advertising, & Limited Time Offer's. However, valuable recommendations are always welcome from our partners.
Access to our 'Expert' operations team: We are a phone call away to answer any questions and offer ongoing support, anytime.
Initial, Ongoing, & All-Inclusive Training: We are always advancing our training to make franchise partners experts in their field; our "Cinnzeo™ Bakery University" (CBU) is available online anytime.
Technology: We provide our franchise partners with current efficient systems & resources. From our Point of Sale System, Menu Boards, and Equipment, to ensure running their franchise & staying motivated are the focus.
Goals & Growth: We want to hear from our partner network, scheduled meetings help determine a plan of action to better serve our guests, improve operations, and contribute to our partner's success.
Reduction of Food Waste & Sustainability: We care about the values ​​throughout our network. We have embraced less food waste and the deficits incurred from wasted product.
.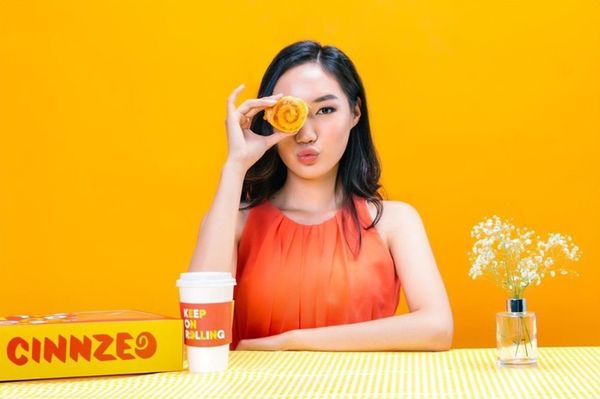 .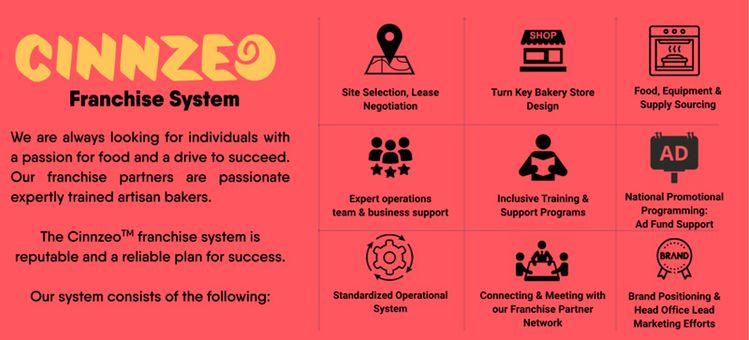 .
Food, Franchise, & Business Trends 2022
The restaurant industry changed during 2020-2021 & emerged "COVID-Convenience"
Quick serve & fast food restaurants have embraced Curbside, Delivery, & Take-out alternatives. These channels still provide revenue streams & customers, possibly introducing new consumers to the brands through e-commerce.
January 2022, household expenditures on bakery goods, per person, amounted to $225; Canada retail sales of bakery products (as of March 2022) were $909 million.
A focus on consumer values; less waste, sustainability, and the environment. Consumers are more socially conscious now more than ever.
The Great Resignation: A large part of our day is at our job, individuals are placing importance on who they want to work for. Specifically why they work, for who, and how; with more emphasis on values ​​and priorities.
Canada has the second-largest franchise industry in the world, USA has the largest.
Franchise operations started in Canada, since 2017, 86% are under the same ownership and 97% are still in business. Franchises have a higher rate of success than start-up businesses
A renewed emphasis to support 100% local & nationally owned businesses.
.
.