There are a number of very good reasons for the ongoing strength in the paper and related products industry.
The topmost is fairly well known and appreciated, ie the biodegradability of this commodity makes it a lesser evil than the plastics that we have become accustomed to. Paper's potential to replace plastics is substantial in many cases. And environmentalists have been pushing for a reduction in plastic waste.
There are a very large number of items from food and healthcare to various other consumer goods, toys and so forth that can easily come packaged in paper rather than plastics. This is an ever-expanding market with may years of growth ahead of it. Growing consumer awareness and government mandates will remain big contributors to this strength.
Another trend that the pandemic has had is the home delivery of goods. This is another mega trend that is spurring the demand for all packaging materials, including paper. While we may not see significant growth in ecommerce right at this time, the market has expanded rapidly in the last couple of years, bringing this huge level of demand.
Many people are not going back to the old way of doing things, especially with respect to everyday things where convenience is of paramount importance. Of course, this dynamic percolates down to the packaging industry. Paper producers in particular are reimagining packaging materials, which is leading to softer, light-weight packaging wherever possible. This kind of packaging lowers production and transportation costs (because of lower weight).
Other than the home delivery of goods, the home delivery of convenience foods, cooked foods, beverages, snacks and all kinds of take-out is a fast-growing market, especially in many Asian markets like India and China (the largest market overall) . Growing urbanization in these markets are further pushing this trend.
Developing markets are also high-growth and high-volume producers and consumers, which makes them bigger consumers of paper and related products. Besides, in the last few decades, the convenience of plastics has done away with many traditional biodegradable packaging materials. So as governments push for greater sustainability, the opportunity for penetrating these markets is considerable.
It's worth noting, however, that the decomposition of paper releases methane gas, which exceeds carbon dioxide's heat-trapping capacity by more than 20X. So when it is not returned for recycling, which is what happens 80% of the time, there's a strong chance that it is adding significantly to the pollution out there. Paper that isn't recycled also contributes to the increased felling of trees. It has been seen that every ton of corrugated material that is reused can help save up to seventeen trees.
But recycling also can't continue indefinitely, as the strength of the fibers deteriorates with every cycle. These reasons may have contributed to the growing popularity of new-age innovative, flexible plastics, which are less harmful for the environment, and are therefore offering the paper industry some competition.
The market continues to evolve with the invention of materials that can be used to coat paper in ways that can improve packaging quality and increase the use cases, among other things.
The paper & paper products industry usually trades at a significant discount to the S&P 500. So it isn't such a big deal that its 6.46XP/E multiple lags the S&P's 16.37X. What is more significant is the fact that it is also trading at a discount to its own median level of 7.10X over the last five years. It therefore makes sense to buy shares of stocks in this industry that are seeing notable estimate revision trends.
While International Paper IP may be considered a good stock (there was an 8% increase in its estimate earnings after it reported last quarter), the company is set to report June quarter results later this month. So we can wait to take stock of the latest trends before deciding. International Paper currently has a Zacks #3 rank (Hold).
Mondi plc MONDY is another one with good prospects. Analysts raised their 2022 estimates by around 5% on a net basis, with the last week seeing some downward revisions as well. Therefore, it's probably a good idea to wait a bit on this one as well. Mondi is ranked #2 (Buy) by Zacks.
Better placed are #1 (Strong Buy) ranked Klabin SA KLBAY and Veritiv Corp. VRTV. Klabin's 2022 estimate increased over 39% in the last 60 days while its 2023 estimate increased 124%. There were no downward revisions either. Veritiv also saw a notable increase in estimates. For 2022, they were up 25% and for 2023, up 4%. Both have low valuations.
One-Month Price Performance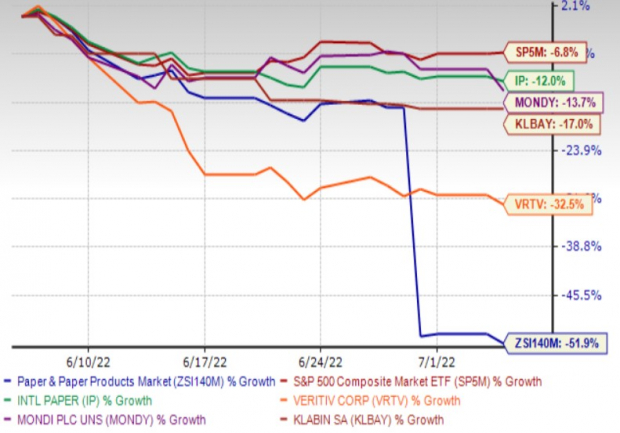 Image Source: Zacks Investment Research
Zacks Names "Single Best Pick to Double"
From thousands of stocks, 5 Zacks experts each have chosen their favorite to skyrocket +100% or more in months to come. From those 5, Director of Research Sheraz Mian hand-picks one to have the most explosive upside of all.
It's a little-known chemical company that's up 65% over last year, yet still dirt cheap. With unrelenting demand, soaring 2022 earnings estimates, and $1.5 billion for repurchasing shares, retail investors could jump in at any time.
This company could rival or surpass other recent Zacks' Stocks Set to Double like Boston Beer Company which shot up +143.0% in little more than 9 months and NVIDIA which boomed +175.9% in one year.
Free: See Our Top Stock and 4 Runners Up >>
Click to get this free report
International Paper Company (IP): Free Stock Analysis Report
Klabin SA (KLBAY): Free Stock Analysis Report
Veritiv Corporation (VRTV): Free Stock Analysis Report
MONDI PLC UNS (MONDY): Free Stock Analysis Report
To read this article on Zacks.com click here.
Zacks Investment Research
The views and opinions expressed herein are the views and opinions of the author and do not necessarily reflect those of Nasdaq, Inc.