Fresenius Kabi RFID-tagged drugs compatible with Amerisource Bergen trays; STMicroelectronics intros multi-zone ToF sensor; Bosch, PARK360 tech enables IoT-equipped smart campus in India; Senet announces LoRaWAN network-based location estimation; Hugo Boss deploys Nedap's RFID platform.
Jul 14, 2022Presented here are recent news announcements in the radio frequency identification and Internet of Things industries.
Fresenius Kabi RFID-Tagged Drugs Compatible with Trays
Fresenius Kabi has announced that its +RFID portfolio of radio frequency identification-tagged medications is now compatible with AmerisourceBergen's medication tray solution. Amerisource Bergen is among the United States' largest pharmaceutical distributors. Its RFID-based tray solution is designed to help hospitals improve medication inventory visibility and tracking. AmerisourceBergen joins IntelliGuard and Health Care Logistics in its compatibility with the +RFID line, which utilizes GS1's Electronic Product Code Tag Data Standard for interoperability, patient safety and supply chain visibility.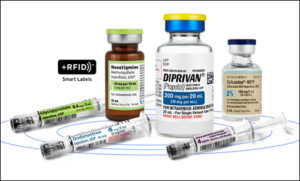 "There is tremendous value in embracing technology advancements such as RFID in healthcare," said Angie Lindsey, Fresenius Kabi USA's VP of marketing, in a prepared statement. "RFID technology allows hospitals to better store and track medications, and that's important for patient safety. Our portfolio of +RFID medicines leverages the power of data to reduce the risk of manual data-entry errors. The compatibility between our medications and AmerisourceBergen's medication tray solution is an important step in continuing to streamline the management of medication throughout the hospital."
A UHF RFID tag is embedded in each drug label, containing data to help hospitals identify, locate and manage inventory. Product information, including National Drug Codes, expiration dates, lot numbers and serial numbers, is accessible from the tag, which can be read by AmerisourceBergen's medication tray. The automated solution for kit and tray inventory management is designed to track dispensed medcines, flag expired products and locate drugs in the event of a recall.
"AmerisourceBergen commends Fresenius Kabi for supporting RAIN [UHF] RFID technology and sharing our vision to increase the utilization of RFID technology in the healthcare industry by removing barriers to adoption," added Dustin Roller, AmerisourceBergen's VP of innovation product development, in the statement. "That is why we designed our system to read any RAIN RFID tags, whether originating from AmerisourceBergen, a manufacturer or another solution provider."
STMicroelectronics Intros Multi-Zone ToF Sensor
Semiconductor company STMicroelectronics has unveiled its latest FlightSense time-of-flight (ToF) multi-zone sensor, which comes with a suite of software algorithms. The sensor is intended for user detection, gesture recognition and intruder alerting. The FlightSense multi-zone sensors continuously scan their field of view to map the scene and gather intelligence without using a camera or recording images. By using ToF technology, STMicroelectronics explains, the sensors can detect and track multiple targets, calculating their X/Y/Z coordinates and motion, at high speed.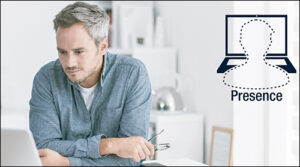 The latest FlightSense sensor, model VL53L5CP, can detect multiple targets in 64 zones within a 61-degree field of view. The Intel-certified sensor comes with Presence Premium Plus, ST's proprietary third-generation algorithm dedicated to PC applications, and is built to interact with native aspects of PC hardware and operating systems. The VL53L5CP and software are designed for PCs, are supported in Microsoft Windows 11 and offer smart power management, security features and touchless user interaction.
Automatic and immediate walk-away locking prevents unauthorized access and data protection, the company reports, while multi-human detection (MHD) senses other individuals within the field of view. The system can analyze their position and movements to assess security risks, such as "shoulder surfing." The sensor also features touchless gesture sensing, allowing users to control PC applications without a screen, keyboard or mouse. The sensor can detect directional swipes and taps, as well as level adjustments, so developers can implement instructions, such as next or previous slides, songs or videos, as well as play, pause and volume control. Lenovo is integrating ST's presence solution in its select laptops.
The Presence Premium Plus software enables PC designers to develop custom AI applications in Windows, leveraging the VL53L5CP sensor's multi-zone data to sense user intent, with continuous presence detection. Dynamic programming of the sensor's parameters from Windows allows end users to personalize timing and lock or wake distances. These features are enabled via non-vision-based ToF technology rather than the PC's webcam, in order to avoid privacy concerns. The sensor is now in volume production and is available with the Presence Premium Plus algorithms.
Bosch, PARK360 Tech Enables IoT-Equipped Smart Campus in India
Technology and services provider Bosch has announced that it is extending its activities in India. As part of this initiative, the company's headquarters in Adugodi, Bengaluru, is being transformed into a smart campus known as Spark.NXT. Narendra Modi, India's Prime Minister, was the chief guest at the facility's inauguration ceremony marking the centennial of Bosch's operations in that country. The 76-acre campus will focus on technologies for sustainability, security and user experience, and will employ artificial intelligence (AI), Internet of Things (IoT), automation and digitalization technologies.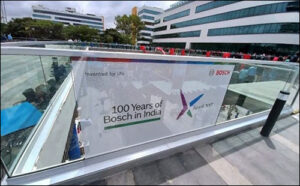 With smart air conditioning, the Spark.NXT campus is intended to lower carbon footprint and reduce energy consumption by 30 to 50 percent, the company reports, while 85 percent of the campus's total energy needs will be fulfilled by in-house solar panels and green group captive power. According to Bosch, approximately 65 percent of domestic water demand can be met by rain-harvesting methods. Besides the green energy initiative, the new campus will feature PARK360 technology, enabling what it describes as "a seamless parking ecosystem" with a reduction in manual security efforts.
PARK360 offers solutions utilizing UHF RFID, cameras, QR codes, machine learning and other technologies. The company collaborates with smart cities, governments, corporations, commercial complexes (malls, hotels and so forth), residential communities and other businesses to understand and build solutions tailored to specific use cases. It provides a real-time picture of a parking infrastructure, with transparency and security throughout the parking-management process.
"When I moved back to India from the USA, I soon realized that every aspect of life, be it my apartment or office complex, places I go out to eat, shop, tour, etc., were greatly influenced by the parking facility/ system or lack of it," said Sanchit Gaurav, PARK360's CEO and cofounder, in a prepared statement. "It greatly motivated me to build a smart platform to provide an efficient and modern parking experience which can cater to the entire ecosystem with easy-to-use, secured and configurable digital solutions."
Senet Announces LoRaWAN Network-Based Location Estimation
Senet, a provider of cloud-based software and services platforms enabling connectivity and on-demand IoT network buildouts, has announced its network-based Location Estimator, which employs the company's public carrier-grade LoRaWAN network, along with networks deployed by partners, to provide customers with location logic for asset tracking, location-enabled mapping, and estimated presence and proximity detection applications.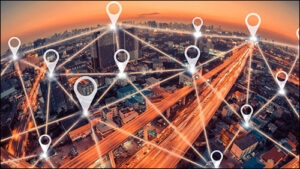 The Location Estimator leverages Se net's existing public LoRaWAN network, including integration with more than 870,000 Helium Network hotspots. It derives the location of LoRaWAN devices from gateways that relay uplink messages. Location accuracy is dependent on the number of gateways receiving uplink messages from the device over time, for applications that do not require precise geolocation. According to Senet, the system does not need to be designed with specific geolocation technology, making any LoRaWAN device location-aware, regardless of its original purpose.
"Many location services are over-architectated for the use cases they are being applied to, which unnecessarily increases the cost of devices, reduces battery life, and generates complexity of application development and service delivery," said Bruce Chatterley, Senet's CEO, in a prepared statement. "Knowing estimated location and environmental data, such as temperature, humidity, shock and vibration, [is] key for general asset tracking, supply chain, perishable food delivery and many other applications."
The Location Estimator monitors and reports location data, as well as temperature, humidity and shock levels, which are critical elements of supply and distribution processes. With Senet's LoRaWAN networks available in major shipping ports and along logistics corridors, application providers have access to location and other sensor data without requiring expensive, power-hungry cellular services. Users can monitor the stationary and in-transit locations and statuses of shipping containers, construction vehicles, pallets and other assets, thereby improving logistics and project planning.
Hugo Boss Deploys Nedap's RFID Platform
Nedap, a provider of RFID solutions, has announced that apparel company Hugo Boss has selected its iD Cloud inventory-management platform for its retail business. The collaboration, according to Nedap, is intended to enable supply chain visibility, while improving merchandise availability and the shopping experiences. Nedap's platform will provide Hugo Boss with real-time inventory visibility and merchandise availability via RFID technology.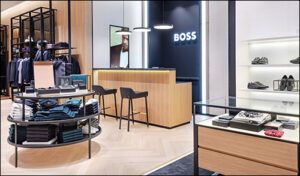 As part of this project, Hugo Boss's stores will be equipped with the iD Cloud store app, allowing fast, regular stock counts, as well as efficient replenishment and smart refill suggestions. The mobile solution will enable the stores to have the right products available, as well as facilitate omnichannel retailing. Hugo Boss will now offer ship-from-store, click-and-collect and "buy online, pickup in-store" (BOPIS) services, while the platform will offer real-time insight into the retailer's stock levels.
"The partnership between Hugo Boss and Nedap underlines that fashion retail and technology go hand in hand," said Tom Vieweger, Nedap's RFID business expert, in a prepared statement. "We believe that real-time, item-level inventory data is crucial for developing successful omnichannel strategies for brands and retailers. By adopting RFID technology, our iD Cloud platform and its global user community, Hugo Boss remains amongst the front-runners in the industry."
Through this partnership, Nedap reports, Hugo Boss intends to increase the flexibility and service portfolio of its omnichannel business. The company hopes to improve how it interacts with customers, and the RFID technology is expected to provide a seamless brand experience across consumer touchpoints, along with greater stock visibility, product availability and circular services.