SNOHOMISH COUNTY, Wash., Aug 1, 2022 – Meet your local Police and Fire first responders and learn how to keep your neighborhood safer at National Night Out!
National Night Out is a nationwide effort that offers community members an opportunity to connect with those serving their community, ask questions and enjoy a summer-style cookout. Last year, 16,000 cities across the country participated!
NNO is designed to:
Strengthen neighborhood spirit and police/community partnerships.
Send a message to criminals letting them know neighborhoods are organized and fighting back.
Heighten crime and drug prevention awareness.
Generate support for and participation in local anti-crime programs.
The Lynnwood Times compiled a list of NNO events taking place around Snohomish County on Tuesday, Aug. 2.
Arlington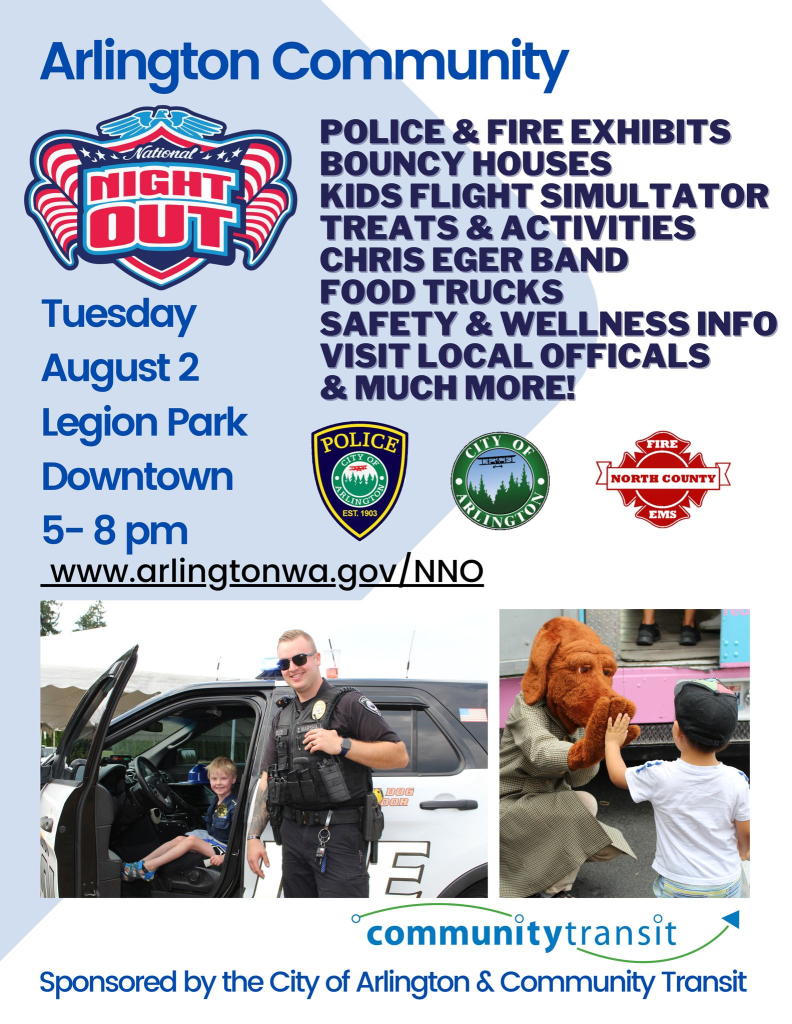 Edmond's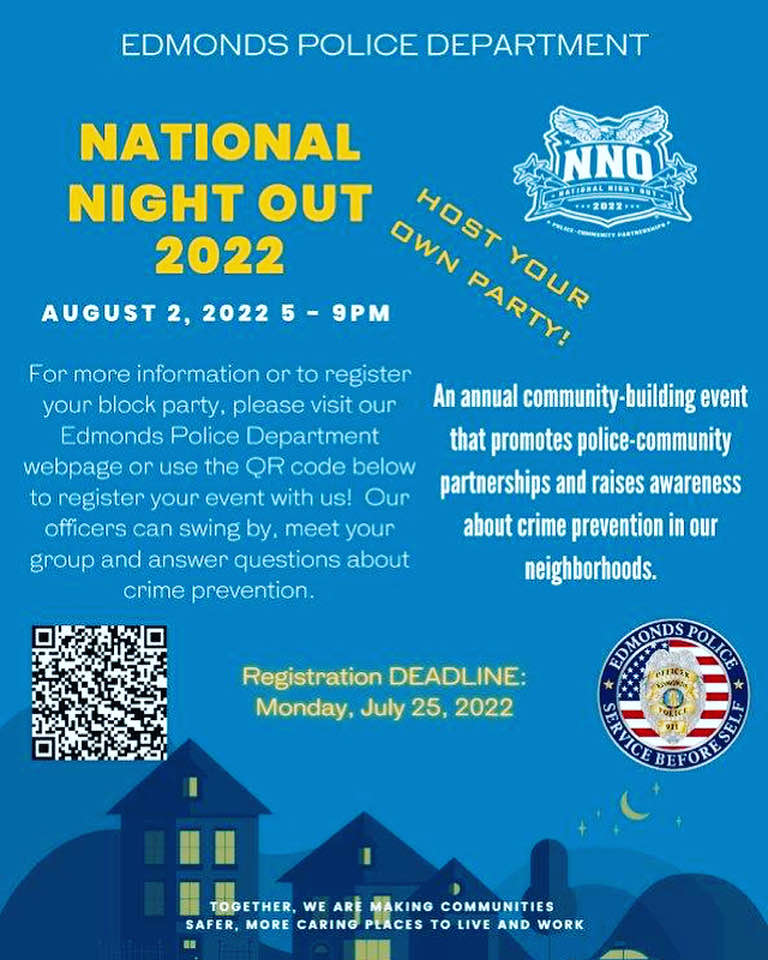 Everett
| Host | Time | Location | Details |
| --- | --- | --- | --- |
| Bayside Neighborhood | 6pm-8pm | Clark Park – 2400 Lombard Avenue | |
| Lowell Neighborhood | 5pm-7pm | Lowell Park – 4605 S. 3rd Avenue | |
| Pinehurst/Beverly Park Neighborhood | 6pm-8pm | Lions Park – 7530 Cascade Drive | |
| Riverside Neighborhood | 5pm-8pm | Garfield Park–2325 Highland Park | |
| Lynx Apartments | 4pm-7pm | 1520 W Casino Rd | behind the pool |
| The Towns at Riverfront – Townhomes | 5pm-7pm | 3300 Riverfront Blvd | lawn near entry |
| Venture Church | 6pm-8pm | 2201 Wetmore Avenue | car park |
| Viewridge/Madison Neighborhood | 6:30pm-8:30pm | Praise Chapel – 710 Pecks Drive | car park |
| Westmont/Holly Neighborhood | 5pm-7pm | Walter E Hall Park – 1226 West Casino Rd | |
Lake Stevens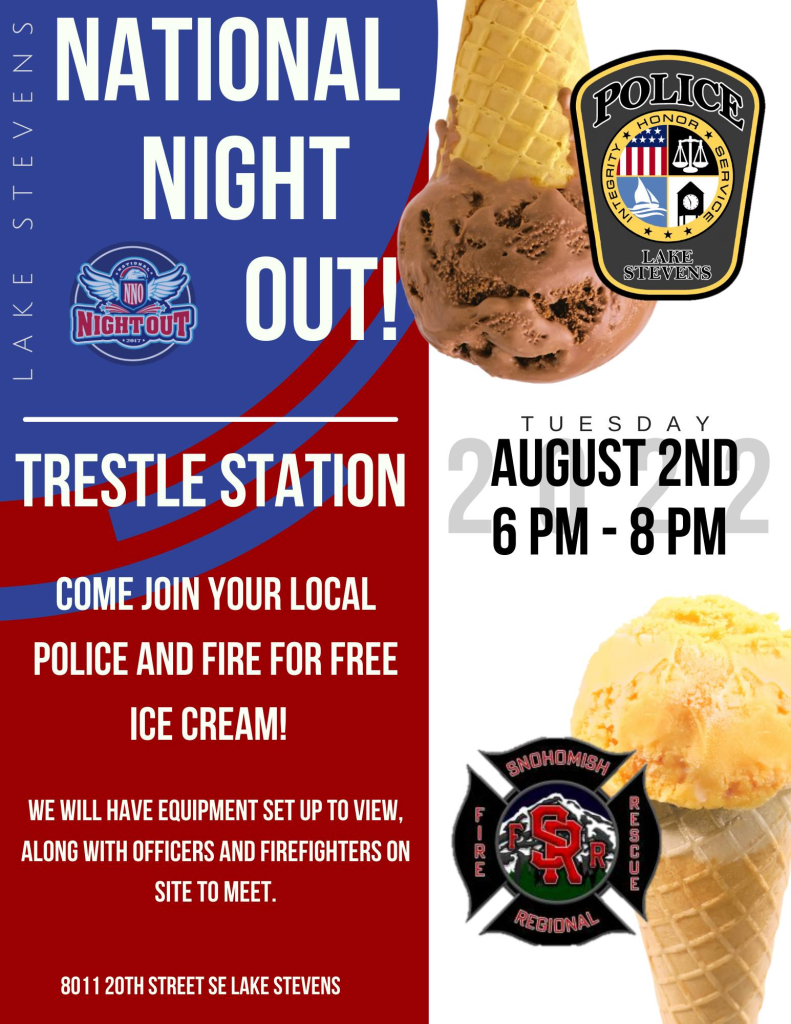 Marysville
The Marysville Police Department, the Marysville Fire District, and all of our community partners enjoy spending time with our community members and answering your questions. We're excited to see you on Tuesday, Aug. 2 from 6 pm – 7:30 pm at Jennings Park!
National Night Out is an annual community-building campaign that promotes police-community partnerships and neighborhood camaraderie. It's a nationwide effort that began in 1984. Last year, 16,000 communities across the country participated. Marysville is proud to be one of them.
For more information about the work Marysville police officers are doing in our community, click here.
Monroe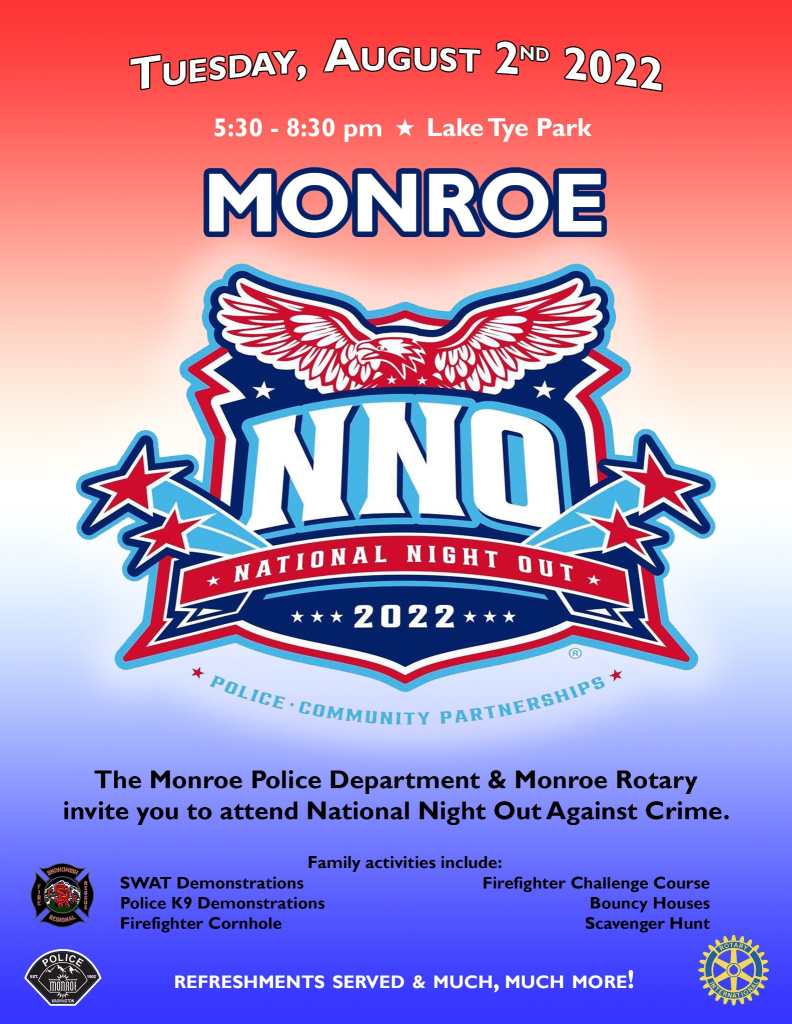 Mukilteo
snohomish
Snohomish County Sheriff
Join us on Tuesday, August 2. Find an event near you:
South County
Location: Willis Tucker Park
Time: 5-8pm
Attractions: Live music, SCSO Motors Unit, SCSO Marine Boat, Fire Engine, Aid Car, PUD voltage trailer, and more!
Sultan
Location: Sultan's River Park, 100 block of Main Street
Time: 5-7 pm
Attractions: Fire Trucks, Police Vehicles, Race Cars, Vendors, Child Safety Seat Awareness, State Patrol, BNSF Police, Bouncy House
Food: FREE hot dogs, chips, soda, and additional food vendors (TBD)
Gold Bar
Location: Gold Bar Elementary
Time: Parade starts at 6:15 pm at 10th and Lewis
Attractions: SCSO vehicles, Helicopter, WA Dept. Fish and Game, US Forest Service, BNSF Railway Police, Sky Valley Fire, kid's bicycle auction
Stanwood
Location: 88th Ave NW Stanwood Municipal Parking Lot
Time: 6-8 p.m.
Attractions: Live music, police vehicles, kids activities, free giveaways, games, family friendly event, largest NNO event in Snohomish County
Food: FREE hot dogs, drinks and condiments by Grocery Outlet, FREE Starbucks treats, cold brew coffee, cake pops, and more!
snohomish
Location: Averill Field 400 2nd Street
Time: 4-6pm
Attractions: Snohomish PD vehicles, SCSO Kid's Copter, Fire District 4, Neighborhood Watch, FREE bike helmets (kids under 10), snow cones and more!
Granite Falls
Location: Granite Falls City Hall complex
Time: 4-7 pm
Attractions: Search and Rescue, Marine Boat, Fire Department, face painting, games and more!
Food: FREE hot dogs cooked by the Granite Falls Fire Department Chief and Assistant Chief. Food is sponsored by Granite Falls IGA – thank you!